W-Modbus wall mount
- Modbus RTU through reliable wireless mesh
W-Modbus eliminates the need to run control cables for Modbus RTU installations significantly reducing time-consuming cable installations, installation planning, troubleshooting, and daisy-chaining.
With LumenRadio's technology it is possible to create a wireless Modbus RTU network that maintains the standardization of the protocol and by converting the Modbus signals into LumenRadio's Mira technology we can send the Modbus RTU signal wirelessly with low latency. We call this W-Modbus.
The W-Modbus product is built upon LumenRadio's MiraOS and MiraMesh, consisting of several patented features enabling extremely reliable radio communication, fast installation, and extended range. MiraOS is used in a vast number of installations around the world for building automation, HVAC control, lighting control and industrial sensor networks.
A W-Modbus unit can be configured either as a Gateway that is connected to the Modbus Client, or a Node that is connected to the Modbus Server. A W-Modbus network can consist of up to 100 Nodes.
W-Modbus utilizes the international license free ISM band at 2.4GHz.
Replacing wires with wireless communication brings significant benefits without changing the existing ecosystem. Legacy wired devices such as sensors, can be converted into wireless devices, providing increased flexibility and cost savings, both during installation and steady-state operation.
Features
Out-of-the-box installation – just power up and connect to your Modbus device and you are up-and-running.
Instant commissioning – 3 simple steps, commissioning the W-Modbus network in minutes.
Mesh network – cover an entire building, utilizing the mesh network as your infrastructure.
Range – 500 meters (line-of-sight) per hop in the mesh network.
Cognitive Coexistence – LumenRadio's patented technology provides industrial-grade reliability and immunity to interference.
Self-optimizing network – the mesh network will always find the best way to send messages through the network between devices.
Modular configuration – you no longer need to have the same baud rate in the whole network, supports individual settings for each device.
Specifications
Power supply: 24 VAC ±15% 50-60 Hz, 24 VDC ±15%

Max. power consumption: 2.5 W

24 V output max. power: 10 W

Auto resettable fuse: Yes

Cable rating, connector: solid / stranded

0.14 – 0.5 mm2 / 0.2 – 0.5 mm2 c

onductor sizes (AWG) 24 – 20

Frequency band: 2.45 GHz, ISM band (2400-2483 MHz)

Baud rate: 9600, 19200, 38400, 76800 bps

Stop bit: 1, 2

Parity: none, even

Number of Servers: 100 Servers to one Client

Number of hops: 8 hops in the meshing network

Range per hop: 500 m line of sight (approximately 50- 70 m indoors with walls)

Output (ERP): Max 20 dBm

IP class: 40

Material: ABS UL94-V0

Colour: White, RAL 9003

Ambient temperature: Operating: -20 to +55°C

Storage: -30 to +80°C

RH: 10 – 95% non-condensing

Weight: 95g

Dimensions: W86.0 x H86.0 x D25.5 mm
System Overview
A W-Modbus network consists of a single W-Modbus Gateway connected to the Modbus Client using a Modbus RTU cable and up to 100 W-Modbus Nodes, each of them connected to one Modbus Server over a Modbus RTU cable.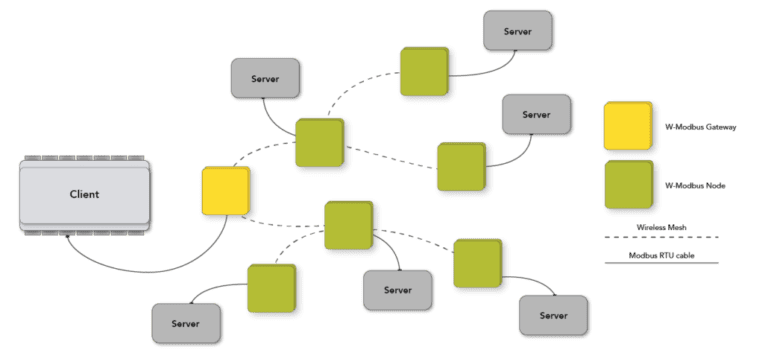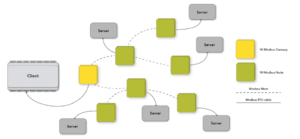 FAQ
Can I install multiple Modbus RTU Clients (masters) at the same place?
Yes, as long as you install one network at a time each network gets their own network key.
Can I connect several Modbus RTU Servers (slaves) behind one W-Modbus unit?
This is possible on the W-Modbus PRO unit.
How many Modbus RTU Servers (slaves) can I have in one network?
It is possible to have 100 Servers (slaves) connected to one Client (master).
How do I give the W-Modbus Node its Modbus ID?
Everytime a W-Modbus Node is started it scans for connected Modbus Server IDs (slaves). When a server is found during a scan the Modbus RTU Cable Communication LED flashes green. When Modbus ID is found the LED flashes red.
Does W-Modbus transfer Modbus signals wirelessly?
The W-Modbus units transfer Modbus RTU signals and not Modbus TCP.
Is the communication in the network encrypted?
Yes, all communication in the W-Modbus Network is encrypted with AES128.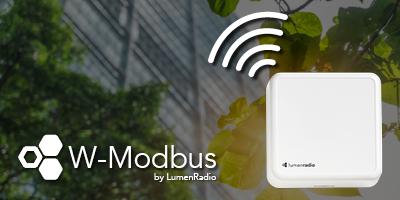 featured story
LumenRadio announces W-Modbus, a product replacing Modbus RTU cables with wireless mesh technology
Continue Reading