The Iron bridge brought back to life
The iconic Iron Bridge in Shropshire was the first bridge in the world to be made of iron and is today a worldwide symbol of the industrial revolution. The iconic Iron Bridge has now been brought back to life at night with an exciting new lighting scheme.
Whilst the Bridge had been lit since the late 1970s, the 40-year-old floodlights were outdated, only lit up one side of the bridge, and were regularly flooded by the River Severn. A new lighting scheme was required to celebrate the conservation project and the 50th anniversary of Telford new town.
The project seemed relatively simple at the outset but soon needed to overcome numerous challenges. The flood risk was regularly in the region of four metres (but could be as high as seven metres), nothing could be mounted on or under the Bridge, cables could not be run through or across it, and that the daytime visual intrusion of any installation must be minimal.
To overcome the stringent cabling restrictions the project team decided to use LumenRadio's wireless DMX technology, CRMX, allowing for light control signals to get from one side of the river to the other without having to use any cables. This allowed the project team to both save time, money and finish the project in accordance with regulations.
The final effect delivers a warm white light scheme during the week and the innovative dynamic 'furnace mode' of red and amber overlaying a dimmed back white scheme for the weekend; the dynamism is created by altering the intensity of the red and amber floodlights across the Bridge, creating the movement of the light from the fiery skies of Coalbrookdale. The scheme was launched during the Ironbridge Festival and has been applauded by all who have seen it since.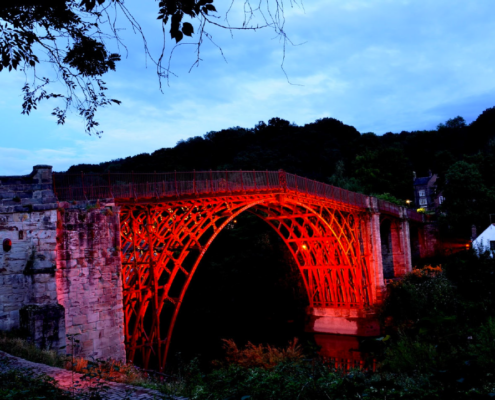 "It's amazing to see it finally come to life; it's been one of the most challenging, yet
ultimately rewarding projects of my life. The response from everyone in the town has been terrific and we believe this wonderful Bridge now has a lighting scheme befitting of its historic significance. "

Liz Peck, Design Principal at LPA Lighting,
It's been a very special project to us, not only is it one of the UK's heritage crown jewels, but as well as being experienced lighting designers, both Liz and I also teach at the Lighting Industry Association academy, just up the road. These projects are always a team effort, so huge thanks are owed to acdc lighting, Aubrilam, Lee Engineering and Nick Gibbons at e-on for their respective hours of help."

Bob Bohannon, lighting design partner