The future of emergency lighting - go wireless!
Wireless connectivity is the future for the emergency lighting industry! Why? Well adding intelligence to your emergency lighting system will lower costs, simplify maintenance, increase customer value and, most importantly, save lives.
Imagine the fire alarm going off. You are in an unfamiliar building and the emergency lighting sign directs you to the fastest way out. What you don't know is that the fire is located in that part of the building and you will soon hit the dangerous smoke and be forced to go back…
This is how a traditional emergency lighting system would work. Isn't it a bit scary that you may be directed towards the fire? Wouldn't it be better to know directly that the emergency route is closed?
Adding wireless technology to your emergency lighting system will enable new functionalities and will challenge the way you have looked upon emergency lighting systems in the past.
From manual to Self-testing Emergency Lighting and beyond
Satisfactory function of the emergency lighting system is always key and faultiness tests of the signs needs therefore to be done either by manual inspection or by self-testing functionalities in each unit. Manual inspections is of course time consuming and for a large building, checking all units may take days to carry out.
In self-testing emergency lighting systems the signs check their own condition and transmit an alert via cables to a control unit in the property. But cables drive cost both during installation and when room and buildings layout changes, making it inflexible.
Going wireless with your emergency lighting system instead of cable wiring will lower your costs and increase your flexibility.
Self-testing Emergency Lighting, cable connected
Adaptive Emergency Lighting
Going wireless is also the first step towards the future of emergency lighting where adaptiveness to real time events can be built into the system.
If the circumstances changes in the building, either in the physical layout or in the radio environment the network will automatically change to get the best wireless signal and the need for cable rewiring is eliminated.
With a red cross appearing on the sign in the event of fire warns you that the route may be dangerous. Compared to the static signs you see in buildings today adaptive emergency lighting will react in real time depending on where the fire is located and lead you on a safe route out from the building.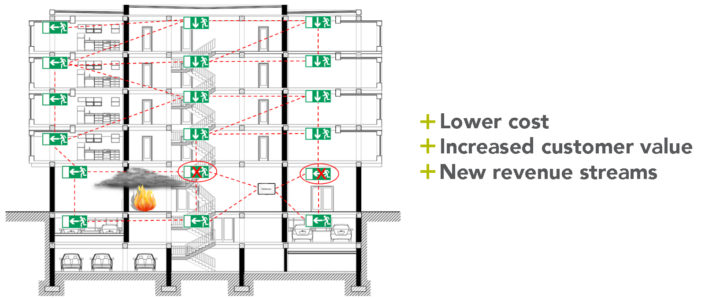 Adaptive Emergency Lighting built with wireless mesh
Extend your product offering
Going wireless is the first step on a journey that can take you far into different service offering opportunities. If you as a supplier of emergency lighting system can offer emergency lighting as-a-service, you have a huge advantage on your competitors.
Extend your product offering by adding smoke detectors to be able to build adaptiveness by closing or warning on dangerous emergency routes. Add room occupancy sensors and other climate sensors to make it possible for the fire brigade to know where people are locked in the building to make evacuation quicker.
Voilà – a whole building wide infrastructure is now installed! Why not also use it in the day to day business? By collecting data it's possible to optimize building usage and energy efficiency and conduct many other analyses. This is something that can be sold or used by 3rd party and thereby create new revenue streams.
The potential by going wireless is huge where increased customer value, new revenue streams and lower cost are just some of the benefits you can add to your offering and most important – saving lives.
Add intelligence and wireless mesh!
To build a wireless emergency lighting system you need to add intelligence in each unit in the system consisting of a radio chip and software. The software, also called an embedded operating system, controls the processes and the radio on the chip making it possible to connect all units in the emergency system in a mesh network.
Mesh functionality is a great fit for wireless emergency systems as you can cover a whole building with connected units in one wireless system where all units are able to relay data.
LumenRadio is offering an embedded operating system for reliable wireless mesh connectivity called MiraOS. MiraOS is based on patented technologies for example interference avoidance, which is a growing concern in buildings where more and more things are getting connected making it difficult for the data to get through all radio disturbances.
Also, the possibilities of building large mesh networks with thousands of units connected to the same gateway is a great advantage when it comes to emergency lighting where tall buildings may require thousands of signs connected and synced in the same network. To to have 2-way communication with each unit in the system is key. The benefit for this is to control each unit for individual circumstances e.g. dim a sign at daytime to save energy but also to get remote updates from each unit if it is working or not.
If you want to explore more about wireless connectivity, please contact us. If reliability within wireless connectivity is your biggest concern – please challenge us. We will show you what real reliability stands for.