Lighting control refurbishment of a Go-Kart track using AirGlow - a win-win with super quick response time
When you decide that you want to control the newly installed lighting but find out that the fixtures don't come with a Zhaga Book 18 socket, non DALI2/D4i drivers and are mounted on 10 meter poles. Then you might get a headache. This is what happened to Alessandro di Berardino, the owner at Mini Speed Track – Go-kart Pescara and Ortona, Abruzzo, Italy. Luckily LumenRadio had the perfect painkiller at hand – the AirGlow outdoor lighting control.
The owner of A3S Progetti, a specifier of lighting solutions, Sergio Grimaldi is a huge fan of racing, especially Go-kart and Mini Moto. Since Sergio and his speed loving son frequently go to Alessandro's Go-kart track to race, it was natural for Alessandro to ask Sergio for help to find a way to control the fixtures and ease his headache.
Experts united
Sergio, also a man of many contacts, got in touch with his lighting control specialist Mirella Guerra, Sales Manager Lighting Division at Intellenergy, to help him out. At this time, Intellienergy and LumenRadio had recently started a conversation about a closer collaboration both in building automation and lighting.
"I thought this project was a perfect pilot for us at Intellienergy to evaluate AirGlow" says Mirella Guerra, Sales Manager Lighting Division Intellenergy. "Since we had already evaluated LumenRadio's MiraMesh network, also used in AirGlow, for our building automation products we knew that it was ultra-reliable and had reason to believe in AirGlow too.
Jens and I had a meeting where he guided me through the wiring of the IP-rated boxes needed for the AirGlows and how to commission the system."
Jens Markebjer is the International Sales Manager for AirGlow at LumenRadio.
"I was very happy when I got the call from Mirella about the project" he says. "We had been talking for quite some time about finding a pilot project where AirGlow would be a good solution. And here it was! I was extra excited since I happen to enjoy Go-Kart racing as well. A lot."
Piloting AirGlow
We have reason to come back to Jens' go-kart passion later, but for now let's stay focused on the project. Sergio from A3S Progetti was sure Mirella would be able to help him to solve the lighting control issue:
"I knew Intellienergy had some solutions for it and when Mirella told me that we could do this as a pilot project with LumenRadio's AirGlow I was immediately curious since both LumenRadio and AirGlow were new to me.
"After some googling I found out that LumenRadio seems to know everything worth knowing about wireless lighting controls. Their long term knowledge of wireless DMX convinced me that they were true experts in their field and that AirGlow could be a very good solution."
While Jens had to stay in Sweden due to travel restrictions, Mirella and Sergio had to do the hardware construction and together with the electrician they manufactured the IP-boxes. Since Zhaga Book 18 requires 24V power supply and DALI Bus power supply, those pieces needed to be included in the box together with a Zhaga receptacle(connector) for the AirGlows and the cables to the fixtures.
At first they encountered some challenges with the wiring, and now the timing allowed Jens to jump on a flight to Italy to have a look and identify the problem – and a solution to it.
"It was decided that I should come to join the installation and see the final result," Jens says. "We figured out that the Zhaga receptacles prefer to have solid conductor wire instead of stranded ones to avoid a bad connection. Simple as that! Now it was time to install."
Smooth commissioning with the AirGlow App
The commissioning of the AirGlow system is easily and quickly done on-site through the AirGlow app. Five simple steps – "Find AirGlow in range", identify, confirm, set number of DALI ports and add to a group – and commissioning is done! Just as easily, different scenes for light control settings are created. All in all, it takes just a few minutes.
To make it even easier, Jens also brought LumenRadio's own small demo remote control for Alessandro to control the different scenes.
"It's a super simple set up," Jens explains. "Before the race starts the light is dimmed and just before start Alessandro pushes the button and the light goes to 100%. What I believe impressed Mirella, Sergio and Alessandro was the instant response time that comes with AirGlow."
"Jens had been talking about the rapid response time and yes – it was truly impressive" Sergio confirms. "I guess it comes from their knowledge of wireless DMX where a fixed 5ms latency is required. It was also so easy to set the different scenes via the AirGlow app, time triggered from sunset to sunrise and then the button triggered scenes for the races. All by only using your phone and the AirGlow app. Love it!"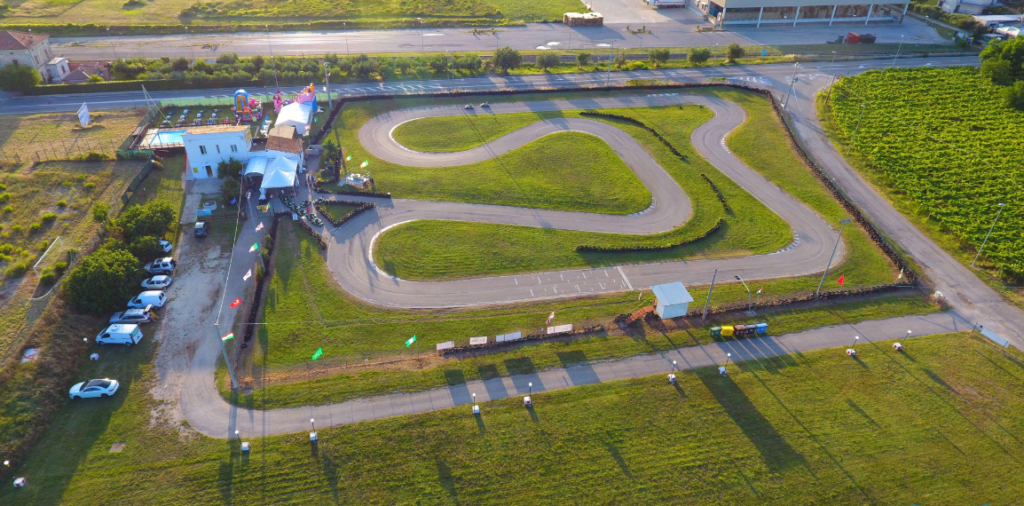 All's well that ends well
Sometimes it happens that when an installation is completed, new insights arise that cause needs for refurbishment or upgrade of post-installation light control solutions. For cases like this, or other MUGA cases, dimming, scheduling or remote management are typical needs where AirGlow from LumenRadio can be the perfect solution.
At Pescara Go-kart track, the final result is now up and running and Alessandro controls his lighting from the phone and/or the demo remote control.
A real win-win?
Mirella Guerra hopes to be able to invite customers to events at the Go-kart track. But she confirms that Sergio and Jens already have had their fight on the track.
"The result? Well, Jens came out on top but I think Sergio was letting Jens win. Italians are by nature much faster drivers than Swedes! And since the Italians won a perfect lighting solution, we could let the Swede win the go-kart race. Isn't that a real win-win?"
Sergio, Mirella & Jens all agree with one voice:
"YES! It's a real win-win! If you want to visit the track for a demo, don´t hesitate to get in touch with any of us to set a date. We would also be happy to beat you in a race!"
And finally, Jens concludes:
"With the chance to win a race or not – me and LumenRadio are happy to help whenever you need a wireless outdoor lighting control solution. We're happy to be the natural go-to partner when it comes to lighting control. I'm looking forward to new challenges that we can help customers overcome! So don't hesitate to get in touch whenever you have the need."