CRMX returns to Jurassic World
LumenRadio once again shows why it's the leading brand of wireless DMX with it's CRMX technology. As the de-facto standard, and the go-to technology, for wireless DMX within the feature film and TV industry; CRMX returned to Isla Nublar to help save the remaining dinosaurs that were left behind.
In the recently premiered blockbuster film Jurassic World: Fallen Kingdom LumenRadio's CRMX technology played an important role; the CRMX technology was put to use for controlling ARRI Skylink fixtures throughout the sets. And once again LumenRadio showed why their technology is want is used by all major lighting manufacturers in the film industry, since it's the only technology that can be used in the harsh wireless environments on set.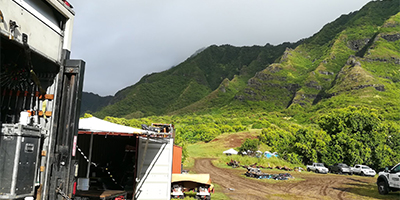 Large part of the movie was shot in the jungles of Hawaii where Lighting Console programmer Richard Rasmusen relied on the wireless DMX system from LumenRadio to save time – hence saving money for the production. When having effects in the jungle, pulling a control cable is simply not an option – turning to wireless DMX from LumenRadio was the logical choice for Richard with a multitude of wireless receivers scattered throughout the jungle for easy access to DMX wherever needed. "I've been using LumenRadio's products almost every day for quite some time. Through the ever changing weather conditions of the Hawaiian jungle and beaches LumenRadio products worked flawless. It saves so much time and trouble. The fact that the technology is built into almost all fixtures these days makes it so amazing!" says Richard.
Michael Karlsson, R&D Manager at LumenRadio elaborates: "We have been the de-facto standard used for wireless control in this industry for quite some time now – there simply are no other options that can deal with all the disturbances in the air at a busy set. Reliability is of essence here, if it doesn't work – time is running. And time means money."