ABB's innovation and growth hub SynerLeap choses LumenRadio
LumenRadio is proud to announce that we are now a member of ABB's innovation and growth hub called SynerLeap, which aims to create an ecosystem for collaboration between ABB and small technology companies.
SynerLeap is located in the heart of the ABB Corporate Research Center in Västerås, Sweden and their vision is to reach shorter innovation cycles, decreased time-to-market and together strengthen the competitiveness. As the name implies it is about finding synergies between companies, partners, unique infrastructure and expertise and to let companies take the big Leap.
LumenRadio has been chosen as one of the technology companies that for a period of 18 months will have access to ABB's infrastructure, customers and business areas to promote LumenRadio's growth. And during that period LumenRadio will also give ABB an injection of innovative technology, energy and entrepreneurial culture.
"SynerLeap represents an opportunity for LumenRadio to solidify the relationship with the ABB Group, and provides a platform for us to interact with the product divisions within ABB related to the wireless solutions of tomorrow." says Peter Lindkvist, Sales Director at LumenRadio and main responsible for the SynerLeap partnership.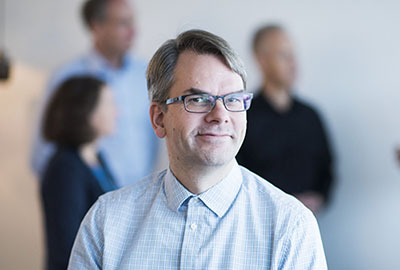 "We are excited to welcome LumenRadio as our new SynerLeap member. We see a lot of opportunities in LumenRadio's wireless connectivity solutions and having them close by, it will be much easier to network and find synergies together with the other SynerLeap companies and ABB"

says Magnus Backman, Head of Energy & Power at SynerLeap
"We look forward to bringing our knowledge of Future-Proof connectivity to the table, and to co-create wireless applications worthy of bearing the ABB name, in terms of reliability and quality-of-service."

concludes Peter Lindkvist
More information about SynerLeap can be found at www.synerleap.com.