Wireless BACnet & Wireless Modbus - possible through MiraMesh technology
Wired ecosystems such as Modbus & BACnet, are among the most common protocols used in commercial buildings today. LumenRadio is focused on turning existing wired infrastructure into reliable and cost effective wireless solutions and earlier this year we launched Wireless Modbus. What are the benefits of wireless in building Automation and how can you benefit?
We are living in a rapidly evolving world where devices are becoming smarter. Systems across the world, across various industries are transforming into fully automated networks. Here – ultra reliable wireless technology is key! Especially in buildings; systems collect all kinds of data from multiple levels and corners to form a smarter system.
Wireless Building Automation
Today, most BMS systems are relying on wired communication. This comes with a huge amount of complexity such as planning, cabling, installation, retrofitting, and maintenance costs. How can installed sensors be integrated into a wireless network while still supporting Modbus and BACnet protocol? With MiraMesh we have the opportunity to communicate using a traditional wired protocol over a "wireless cable" – the best of both worlds.
Below is a picture of a typical wired building automation network. When using a wireless system a lot of the complexity goes away and you no longer need to rely on the traditional setup of a building automation system.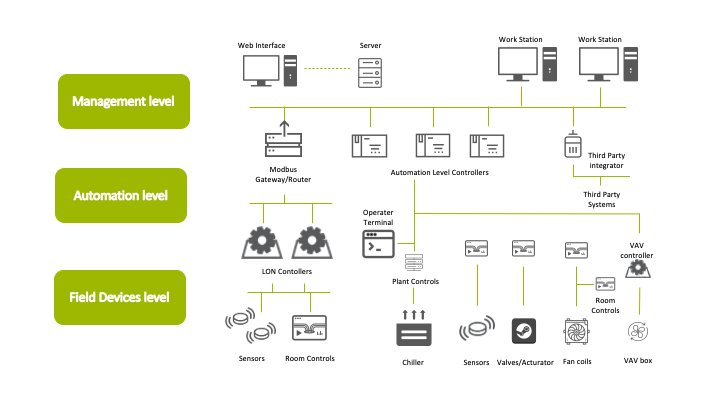 Replacement of wires
When launching W-Modbus earlier this year, LumenRadio has proven that it's possible to create wireless Modbus networks utilizing MiraMesh, which retains the standardization of the protocol.

W-Modbus eliminates the need to run control cable for Modbus RTU installations significantly reducing time-consuming cable installations, installation planning, troubleshooting, and daisy-chaining. A W-Modbus unit can be configured either as a Gateway that is connected to the Modbus Client or a Node that is connected to the Modbus Server. A W-Modbus network can consist of up to 100 Nodes.

The W-Modbus product is built with LumenRadio's MiraOS and MiraMesh, consisting of several patented features enabling extremely reliable radio communication, fast installation, and extended range. MiraOS is used in a vast number of installations around the world for building automation, HVAC control, lighting control and industrial sensor networks. W-Modbus can be integrated and utilized location agnostic, as technology is operating on the free 2.4 GHz ISM band.
Now LumenRadio is focusing on the BACnet protocol and will showcase his W-BACnet MS/TP solution at the AHR Fair in Las Vegas. Do you want to be the first to know more about our wireless BACnet product? Sign up for our product updates.
Or do you want to know more about wireless solutions for Building Automation and HVAC products? Solutions made available both as software or hardware? Read more here or contact me.