Wireless Modbus & Wireless BACnet - possible through MiraMesh technology
Wired ecosystems such as Modbus & BACnet, are among the most common protocols used in commercial buildings today. The question is; Is it possible to turn an existing wired infrastructure into a reliable and cost effective wireless solution?
We are living in a rapidly evolving world where the devices are becoming smarter. Systems across the world, across various industries are transforming into fully automated networks. Here – ultra reliable wireless technology is key! Especially in buildings; systems collect all kinds of data from multiple levels and corners to form a smarter system.
Wireless Building Automation
Today, most BMS systems are relying on wired communication. This comes with a huge amount of complexity such as, planning, cabling, installation, retrofitting, and maintenance costs. How can installed sensors be integrated into a wireless network while still supporting Modbus and BACnet protocol? With MiraMesh we have the opportunity to communicate using a traditional wired protocol over a "wireless cable" – the best of both worlds.
Below is a picture of a typical wired building automation network. When using a wireless system a lot of the complexity goes away and you no longer need to rely on the traditional set up of a building automation system.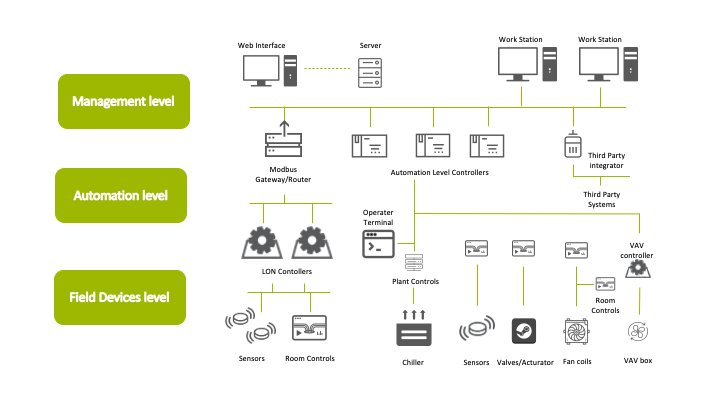 Replacement of wires
LumenRadio has proven that it's possible to create wireless Modbus networks utilizing MiraMesh, that retains the standardization of the protocol. By converting the Modbus signals into MiraMesh running on either the Nordic Semiconductor nRF528x or NXP MKW41x we are able to send the Modbus signal wirelessly with low latency.
LumenRadio's technology allows the replacement of wires with wireless communication that is both cost effective and works out of the box. This brings significant benefits without changing the existing ecosystem. Legacy wired devices, such as sensors can be made into wireless devices, providing increased versatility and cost savings, both at the time of installation and ongoing.
OEM's will have the possibility to combine an off-the-shelf wireless solution together with their already existing wired offering. This brings a shorter time-to-market and a lower threshold to take the first step into the wireless world.
The solution can be made available both as software or hardware. So please contact me for further information!
Do you want to know more about wireless solutions for Building Automation and HVAC products? Solutions made available both as software or hardware? Read more here or contact me.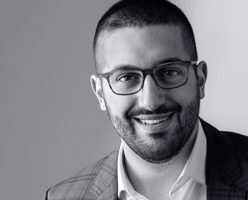 Are you interested in going from a product to a smart connected product and want to know more about the process? Download our free guide: