Luminair 3 adds support for LumenRadio's MoonLite and TimoTwo
LumenRadio and Synthe FX have announced the immediate availability of a new update to Synthe FX's Luminair 3 app that adds support for outputting DMX over Bluetooth to LumenRadio's MoonLite™ and TimoTwo™ platform.
Luminair 3, from developers Synthe FX, is an iOS-based lighting control app for iPad, iPhone and iPod touch.
"LumenRadio's MoonLite™ is a new wireless DMX control product that incorporates an updated version of the company's award-winning, ultra-reliable CRMX technology, combined with Bluetooth connectivity and a built-in battery.
MoonLite is built on TimoTwo™, LumenRadio's new radio module that enables the next generation of wireless DMX communication. Built-in Bluetooth compatibility makes TimoTwo™ a dynamic platform, always evolving via software updates to offer users and manufacturers the latest wireless functionalities."
The new functionality in Luminair v3.7.4 allows users to output DMX over an iOS device's built-in Bluetooth hardware, directly to MoonLite™ and TimoTwo devices™. Special optimizations have been made to deliver the full Luminair app experience over low-bandwidth BLE connections. All features in Luminair are supported at a reduced frame rate, including FX, sequences and long fade transitions.
Connecting to a LumenRadio BLE device within Luminair is a simple one-step process. Users no longer need to configure a custom network or individual adapters. Just tap on the device listed in Luminair's Bluetooth discovery window and a full universe of DMX will be output whenever that device is within range. Luminair can also output the same universe over Art-Net and sACN simultaneously with the Bluetooth output.
"The simple connection process will appeal to users working in fast-paced environments like Film and TV production, where it's not always practical to set up a full network for lighting control", says Ryan Hisey, founder of Synthe FX. "We're thrilled that LumenRadio has created this new product platform that streamlines the wireless workflow for users, while simultaneously offering lighting manufacturers the ability to incorporate Luminair app compatibly directly in their products."
"The Bluetooth compatibility in TimoTwo and MoonLite opens up to a totally new era of wireless DMX and we are happy that Luminair 3 now has support for outputting DMX over Bluetooth to LumenRadio's new product platform. Synthe FX is a pioneer in this field and we're excited that the entire Luminair app user base now has the ability to directly interact with our products." says Niclas Norlén CTO at LumenRadio.
Availability
The Luminair v3.7.4 update is available now on the iOS App Store, as a free download for existing Luminair 3 customers. Pricing for new customers varies across regions. Full product information is available at https://synthe-fx.com/luminair
Both MoonLite™ and TimoTwo™ are available for order. MoonLite™ is ordered via LumenRadio's distributors (Link ) and for interest in the TimoTwo™ module please contact sales@lumenradio.com.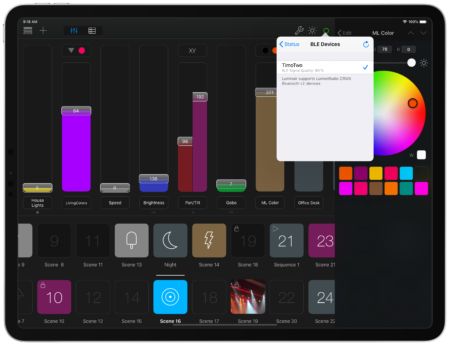 About Synthe FX
Synthe FX is an industry leader in mobile lighting control products, specializing in apps for iPad, iPhone and iPod touch. The company was formed in 2006 with the aim of building tools that inspire and enable creativity, by utilizing the latest software architectures and hardware technologies.
About LumenRadio
LumenRadio develop, market and sell low-power and ultra-reliable operating systems, radio modules and products for wireless lighting control and IoT-applications. From high-profile professional lighting to heavy-duty industrial equipment, we have a solution that works in environments where others fail.
For more information contact:
Ryan Hisey, founder of Synthe FX
info@synthe-fx.com
+1 513-238-0155
or
Niclas Norlén, CTO, LumenRadio
niclas.norlen@lumenradio.com
+46 766 278 728
iPad Pro, iPad, iPhone, Apple Watch and iCloud are registered trademarks of Apple, Inc.