LumenRadio Welcomes Chauvet Professional
Chauvet Professional has recently launched the Maverick Silens 2 Profile – the quietest LED moving head ever released, and LumenRadio welcomes Chauvet Professional to its ever-growing family of OEM CRMX integrators.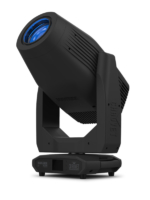 Fixture noise is a constant concern when working in theatres, recital halls, broadcast studios, and film sets. The Maverick Silens 2 Profile meets that challenge with its innovative 100-percent convection-cooled fixture. That means there is not a single fan on the fixture. "Having worked for many years in theatres and on sound stages, fixture sound was always a topic of discussion. I am quite sure this will catch the eye (or ear) of many Lighting and Sound Designers," says LumenRadio US Sales Manager Sean Dane.
By selecting LumenRadio for the Maverick Silens 2 Profile, Chauvet continues to cement CRMX as the standard for wireless DMX for film and broadcast lighting instruments.
"We made the change to LumenRadio CRMX due to market feedback that especially in the Broadcast Market, CRMX was very critical to them to be successful in the fixture," says Ben Dickmann, Product Manager, CHAUVET Professional & Iluminarc.
Users of the Silens 2 Profile and its integrated CRMX TiMo module will benefit from LumenRadio's patented Cognitive Coexistence which ensures stability by actively monitoring radio environments 1500 times a second. This allows LumenRadio transmitters to adapt and avoid an interference even in the harshest environments.
"One of the keys to being trusted by over 200 product manufacturers is our ease of integration and the support of our team at every level. With Chauvet, we once again show that and are proud to welcome them to the family," says Dane.
For more information on the technical aspects of the Maverick Silens 2 Profile read HERE or watch this product VIDEO.