LumenRadio celebrates 10 years of reliable wireless connectivity
2018 marks the 10-year anniversary for LumenRadio. We've accomplished a lot in one short decade, and there is without a doubt more to come.
The light-bulb moment
In the middle of the night, while driving on an empty highway, LumenRadio's founder Niclas Norlén couldn't help but notice all the street lights. They we're blasting at full capacity, even though there were no other cars in sight. This was a true light-bulb moment (pun intended) for Norlén who realized that lighting could (and should) be made smart – and so he did.
After the initial idea formed back in 2008, LumenRadio quickly became the wireless partner in professional lighting. Our wireless DMX technology was requested at numerous occasions; from festivals and Hollywood productions to royal weddings and architainment illuminations.
Exploring new possibilities
This proven versatility and the successful results generated a great deal of confidence in the LumenRadio team, and we humbly decided to become the wireless partner in even greater areas. Thus, entering the world of IoT.
With the new Mira module, LumenRadio's patented reliable connectivity reached new customers and enabled even more companies to connect their surroundings. In 2016 Swegon launched their new wireless climate control system built on LumenRadio's technology, and it proved to be just as reliable in this area as in professional lighting.
Frequencies and coexistence
We are witnessing a massive increase of wirelessly connected things. In fact, we have been for a while. With these congestions in the frequency spectrum, you need to find a way through the frequency noise of today, as well as adapt to the congestions of tomorrow. Otherwise; no communication.
The LumenRadio Cognitive Coexistence technology works like a weather forecaster; predicting on a millisecond basis how the frequency spectrum will be utilized going forward.
Adaptation to a new reality is the key ingredient of being future-proof, and we have been practicing this for a decade.
The wireless future
When it comes to technology, the accelerating expansion of possibilities semes to surpass the expansion of the universe itself. With over 75 billion devices predicted to be connected by 2025, reliable and Future-Proof connectivity has never been more important. This is what makes us so passionate about what we do, and we always aim to expand and improve. With our trademarked Cognitive Coexistence (and our equally trademarked humble confidence), we believe that with LumenRadio in the mix, 2018 will be a pivotal year for the technology of the future.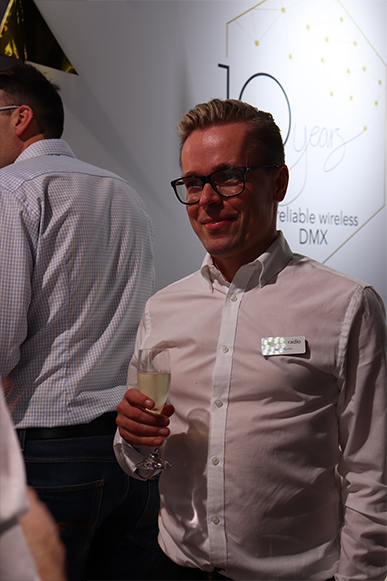 "It has been an amazing 10 years! I'm so thankful to the people I'm working with that makes LumenRadio such a great company. When I started I was convinced that wireless technology could change the world and to see that we keep developing and perfecting a technology that revolutionizes industry after industry is just fantastic" 

says Niclas Norlén, founder and CTO of LumenRadio