BACARDI TRIANGLE
EVENT LIGHTING
LumenRadio is extremely pleased to once again announce a great cooperation regarding Event lighting with the extraordinary lighting magician Tupac Martir.
In the heart of the Bermuda Triangle, lies Palomino, a desert Island off the coast of Puerto Rico and home to the legendary party – Bacardi Triangle.
Three jumbo jets from three cities across the world, flew the world's hottest artists and 1862 invited guests to a private island in the Caribbean Sea 31st October 2014, to party in one of the most mysterious places on earth. Headlined by Calvin Harris, Kendrick Lamar and Ellie Goulding, the three-night music festival brought the world's largest artists together for a gig of epic proportions.
For three nights, Bacardi took over the 5-star resort, El Conquistador and transformed it into one of the most spectacular venues on earth. A total of 14 universes of LumenRadio's CRMX Nova TX2 RDM units were used to transfer reliable wireless DMX/RDM data to four large areas across the resort.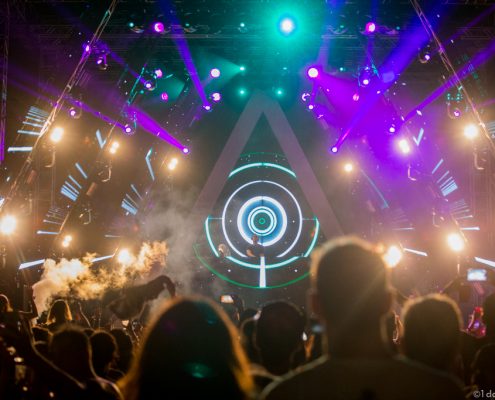 22 x CRMX Nova RDM receivers was put in place to control a massive lighting rig containing of 36 x Clay Paky Sharpy, 46 x Philips Vari-Lite VL3000 Spot, 60 x ETC Source Four PAR and 40 x ETC Source Four Profile amongst many others. Control was from High End Systems Road Hog 4.
"With the amount of time in order to deliver the show and the distances across an entire island/resort, having the flexibility to position the lamps without worrying about DMX signal, meant we could create our vision, rather than having to settle for what was available"

Tupac Martir, founder of Satore Studios
"Working with Tupac is fantastic and always a pleasure. His technical knowledge together with his creativity always provides interesting and fantastic results. Tupac Martir is just brilliant!"

Jessica Bjork, Sales & Marketing Manager at LumenRadio