Smart building emergency and evacuation lighting from Ledolight
Ledolight is a Sweden-based leading manufacturer of energy efficient emergency and evacuation lighting. As true front runners they have received several awards for technology as well as for design. Ledolight is now launching a connected emergency signage and lighting system that uses LumenRadio's reliable wireless technology.
THE PROBLEM
Installing a new emergency lighting system in an existing building can involve high cable wiring costs. Besides the costs, it can be difficult to find a non-invasive solution if the house is also listed. According to Swedish law, the property owner is obligated to make sure that there are adequate, functional emergency light equipment in the building. In addition, they have to carry out inspections once a year and monitor the performance of the entire equipment, including batteries and lighting sources. To check every single emergency sign and emergency lighting is a very time-consuming task.
THE SOLUTION
There are many advantages in making an emergency lighting system wireless. One of the most obvious gains is that the facility caretaker can avoid the time-consuming task to check every single device in the system. Instead the Control panel will be the single "point of contact" that provides a complete overview of the status of all batteries and lighting sources. A wireless lighting system makes the caretaker's job much easier as it becomes simpler to monitor and do maintenance, and, there is no risk of missing any light fixtures. Moreover, the costs are considerably lower. A wireless system is also ideal for retrofitting light fixtures in older buildings.
Ledolight has developed a wireless product family, LedoWireless, consisting of emergency signs and emergency lighting accompanied by a controller that has a simple and intuitive interface. Ledolight's system is easy to install, easy to monitor and with a price to fit the small and midsize customer.
LEDOWIRELESS
A wireless product lineup of signs and emergency lighting, with a user friendly interface, designed so everybody can use it.
Ledowireless panel
The control panel for interacting with the units in the network. All units are linked to a specific panel, to make the setup as easy as possible. As soon as the unit is turned on it will bind to the network.
Ledonomic Wireless
The wireless technology is integrated in Ledolights already well tried and tested Ledonomic sign.
Ledobright Wireless
An emergency lighting available in two models with different lenses for open areas and for corridor lighting.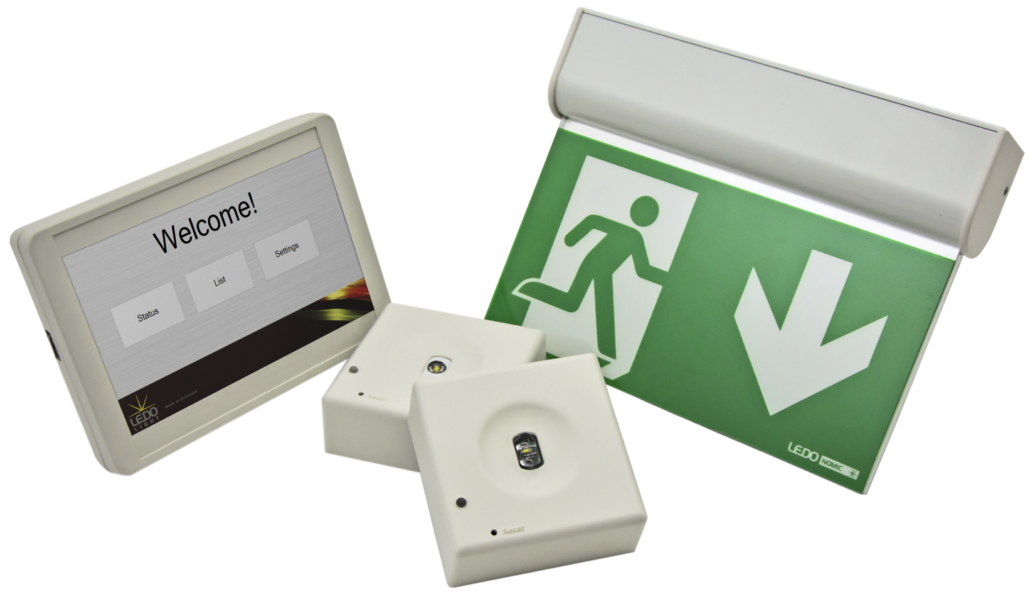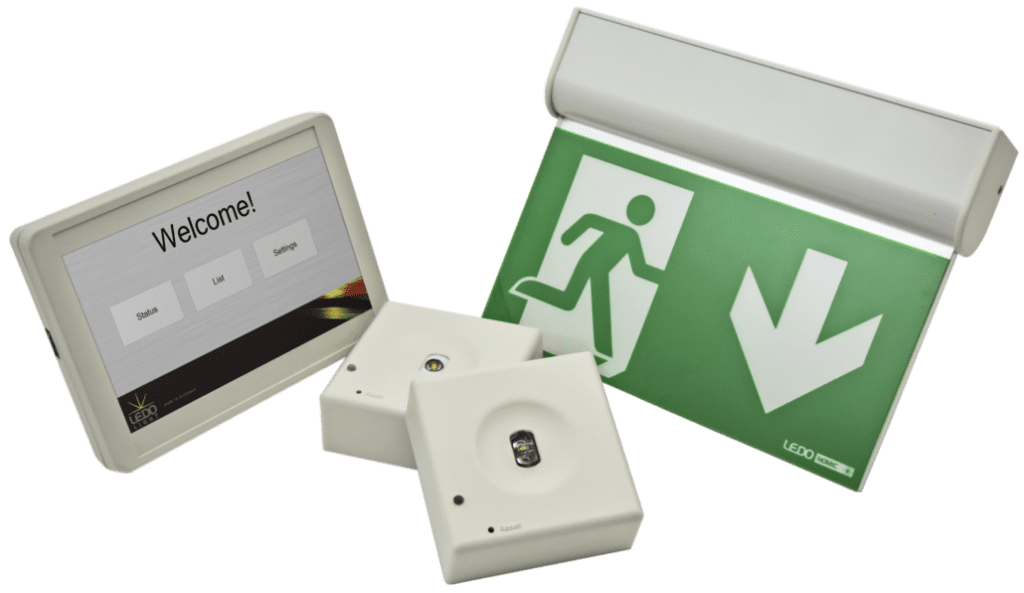 MAJOR BENEFITS WITH LEDOWIRELESS
REDUCED INSTALLATION COSTS
WIRELESS MONITORING & CONTROL
GOOD FOR SMALL AS WELL AS LARGE SITES
CHALLENGES AND BENEFITS
There are numerous wireless systems on the market today, but most are costly and complex and are aimed at large customers and property owners. Ledolights system fits small and medium-sized properties, where you want local emergency lighting monitoring. The simplicity and low initial cost makes the Ledolight system optimal for real estate with 20 up to 100 emergency signs and emergency lighting fixtures.
Since LedoWireless uses a mesh network, installation costs will be very low. A mesh network means that all lighting fixtures in the system relay signals within the network. This creates an extremely robust network that doesn't require any expensive extenders, cables or other existing networks.
"The simplicity of the product and the user-friendly interface makes Ledolight's new wireless systems very appealing for small and medium-sized properties. This, plus the innovation, based on LumenRado's reliable wireless technology, makes Ledolight perfectly positioned on the market for wireless emergency lighting systems"

Lars Åleby, CEO at Kamic
"This is just the first of several wireless products in the future. I have followed LumenRadio's technology for a long time, and I have enjoyed participating in a project that is so beneficial for us as a company, but also for the property owner and the end customer"

Dennis Karlsson, CEO at Ledolight
FUTURE-PROOF CONNECTIVITY
There are several wireless networks in a typical building today, and there will only be more in the future. The space for sending information wirelessly is limited, and the wireless environment changes over time. To ensure that LedoWireless always works regardless of congested a buildings radio environment will be, Ledolight has chosen to use LumenRadio's wireless network system Mira.
Mira has patented support for extremely reliable adaptive frequency jumping (FPCC-Future-Proof Coexistence Connectivity), which ensures that the signals from the system are not interrupted and that the system does not interfere with other important wireless traffic in the building. All data sent in the system is secure – together with network keys as well as encryption keys it creates an extremely reliable and secure system. It is also easy to add new products to a building, which automatically connects to the wireless network.
MAJOR BENEFITS WITH LUMENRADIO'S FPCC* TECHNOLOGY
Cognitive Coexistence lets the products co-exist along other wireless technologies, not being interfered or causing interference.
Upgrades for new functionality through best-in-class firmware upgrades over the air.
Built in support for easy and Cost effective commissioning.
*FPCC- Future-Proof Coexistence Connectivity