DMXmesh™ – "the best invention since sliced bread"
The best invention since sliced bread – that was the most common reaction we got when we showcased DMXmeshTM at Prolight+Sound in Frankfurt in April. Sliced bread – the saviour of every hectic morning and every 1:00 a.m. snack craving – is an honorable analogy. Above all else, it's an accurate one. But to understand the background for all these comments we have to back up some years.
When I first entered the professional lighting industry about one and a half decade ago, wireless DMX systems already existed – and had been existing for some time. The systems of those days were generally based on standard radio technologies like WiFi and Bluetooth. The systems of those days where not very reliable and they were also cumbersome to set up and use – you basically needed a IT technician and an RF engineer to set up a system that would work for a live show.
Challenging Status Quo
10 years ago LumenRadio was founded – one of the first steps taken in the vision of changing the lighting industry. Our first task was to make wireless lighting controls reliable, frequency friendly and – last but not least – user friendly. A lot has happened since then. LumenRadio products has been so reliable and easy to set up and easy to use so they have conquered the entertainment industry – Coachella Music Festival, Eurovision Song Contest, Stadium tours, block buster movie sets, you name it… We're the only wireless company winning five innovation awards in the lighting industry; whereof three consecutive years and two the same year – so we are used to challenging the status quo and push the boundaries for what's possible.
What does all of that has to do with DMXmesh?
With DMXmesh we're taking user friendliness to a new level. Up until now, when doing architectural and architainment lighting installations the installer had to perform site surveys for measuring signal strengths since wireless DMX systems has been in a star topology – one transmitter and many receivers. This has also lead to a lot of time being spent on calculating where to place repeaters, using directional antennas, doing cell planning, etc, etc.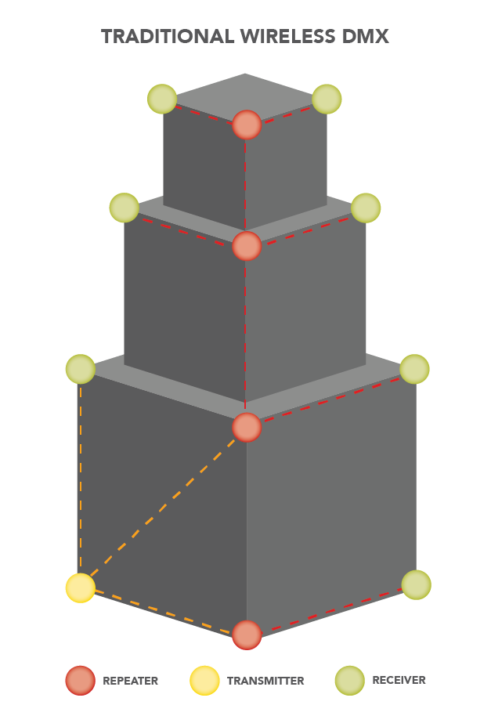 At LumenRadio we believed this could be done in a much easier way, removing the need for all this work. And we could bring the knowledge of mesh networking to the lighting industry – resulting in our patent pending DMXmesh technology. With DMXmesh, all receivers and DMXmesh enabled fixtures will help forward the lighting control data in a collaborative manner, meaning no more need for site surveys. The installer just has to make sure that any one receiver always has wireless range to at least one other fixture – the DMXmesh technology will do the rest.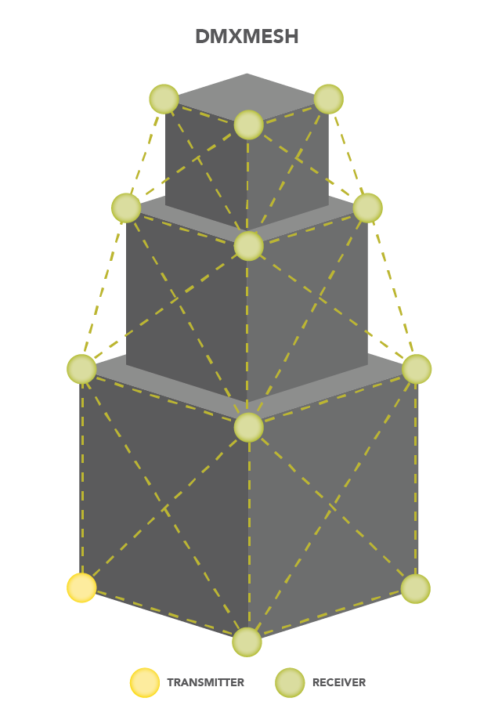 No need for manual configuration
DMXmesh is fully automated mesh network with multi-path redundancy, meaning that the signal will flow every possible path through the network simultaneously, making it extremely robust.
Combined with our patented cognitive coexistence technology the need for cell planning is also eliminated – the system will automatically select the available frequencies when they are available – no manual configuration needed, and no extra expensive hardware to support multiple frequency bands is needed, just as simple as plug-n-light.
What about the sliced bread?
The time for installation and wireless commissioning is greatly reduced for architectural and architainment illumination, no more site surveys or complicated planning for the wireless DMX distribution. The high barriers for wireless light control of yesterday will be a memory from the past. The DMXmesh technology will let you focus on what is important; illumination, not on DMX distribution. Obviously, our trade show booth visitors weren't just buttering up – it's the best invention since sliced bread. And I'm proud that we at LumenRadio once again will change the professional lighting industry.
DMXmesh products
The first products to hit the market, by the end of the year, with support for DMXmesh are our brand-new radio module TimoTwoTM and the end-user product MoonLiteTM. Both MoonLite and TimoTwo also features support for Bluetooth connectivity to our smartphone app CRMX Toolbox for device management configuration, and software updates.